Please join us October 20-24 for SYNC 2018 – Tune In, Tune Up! – hosted at the Hilton Downtown in Nashville, TN!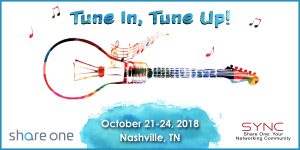 Tune in to the latest trends in financial services and we'll help you tune up your operations! Collaborate with our team of experts and credit union professionals from around the country to share best practices and learn about the newest products, features, and system enhancements that will keep your credit union successfully serving your members!
Saturday, October 20 : Travel Day. Evening – Early arrivals can join us for a dinner event (TBD).
Sunday, October 21 : Travel Day. Daytime – Early arrivals can join us for daytime events (TBD, details and registration to come). Evening – Join us for our KICK-OFF DINNER that will include cocktails, dinner, and more!
Monday, October 22 : Full day of conference presentations followed by a cocktail party and dinner reception.
Tuesday, October 23: Full day of conference presentations followed by small group dinners.
Wednesday, October 24 : Conference ends by 12:00 PM.
The Hilton Nashville Downtown room rate is $259 per night, available October 19-25.
Presentations are designed to inform and educate a wide variety of credit union professionals so that subject matter will appeal to everyone. We are working to finalize an action-packed agenda that will include more customized content for attendees.
Date: October 20 – 24, 2018
Place: Nashville Hilton Downtown
Stay tuned for more information and registration information for your opportunity to connect with NewSolutions users from across the country. Nashville is a top destination city for expos and fun. The Hilton Hotel is steps away from Ryman Auditorium, hokey tonkin' on lower Broadway, the riverfront pedestrian bridge, and so much more! Meeting days are designed to arm you with great insight from Share One experts and NewSolutions end users alike.
Back to View All