SYNC 2020 Save the Date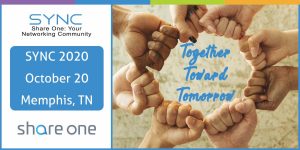 Our "physical" conference at the Peabody in Memphis is postponed until October 2021, when we hope to clear the hurdle of the current pandemic.
We are planning to host our first ever "virtual conference" and are busy putting together a webinar designed to network, share, and learn with SYNC 2020 – Together Towards Tomorrow.
We will have more information and registration available as soon as we map out our agenda.
Back to View All