Share One Signs Western Connecticut FCU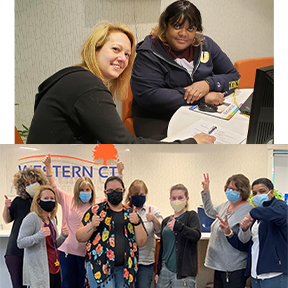 Memphis, Tennessee—Western Connecticut Federal Credit Union signed a contract with Share One, Inc., to convert to NewSolutions core processing system in May of 2021. The $29 M asset, 3,958-member, community-chartered credit union serves the greater Danbury, Connecticut area, and is led by President/CEO Sabrina Defazio.
"We selected Share One for several reasons, but ultimately we wanted to align with a CUSO and real people." said Sabrina. "From the initial warm welcome and the impressive NewSolutions system demo, we felt that our cultures meshed," she said.  Sabrina explained her credit union has utilized their current core system for ten years and felt their service level declined, the cost is expensive, and the development is slow. "We offer a wide range of loan products, including our in-house credit card portfolio. We were surprised some other core systems didn't offer this integration. With NewSolutions, our credit card program will be integrated, and we will experience a far superior comprehensive core offering," said Sabrina. The credit union was also sold on the tightly integrated and omnichannel digital NS3 product offerings by Share One. "We are excited to release an upgraded digital banking experience with NSMobile with our core system upgrade to NewSolutions.  Our members will especially appreciate the integrated, real-time, remote deposit capture feature included in NSMobile," she said.
Teri Van Frank, President/CEO at Share One, says, "Sabrina and her team are in good hands with Share One," said Teri. "We take great pride that NewSolutions offers a full suite of robust options that are tightly integrated, customizable, and scalable," she said. "We are ready to go to work with Western Connecticut to help them achieve their goals," said Teri.
Share One, Inc., a CUSO operating out of Memphis, TN., is a leading developer of credit union core processing and serves an expanding client base of credit unions with assets ranging from $10 million to $2.1 billion. NewSolutions provides a full range of advanced features, including comprehensive support for consumer, mortgage, commercial loans, a full suite of cloud-based products, a fully integrated, member-centric imaging system, and exceptional operational efficiency. For more information, call 800-888-0766 or visit the company web site at www.shareone.com.
###
Back to View All